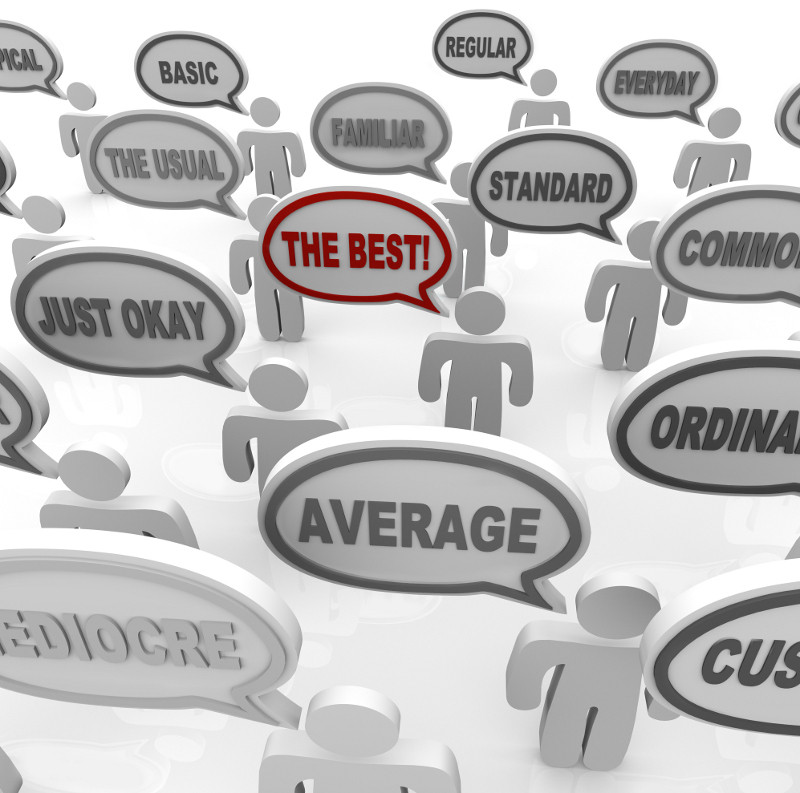 First, the good news – with thousands of professional matchmakers in the US and Canada, and 100+ new ones starting up each year, you have plenty of services to choose from.
Now, the bad news – it's a highly unregulated industry, and there's no official certification process matchmakers need to go through.
Oh, and one more thing – it's not cheap. Just the opposite. On average, you can expect to pay between $5,000 and $10,000 a year for a membership, with "Elite" matchmakers charge upwards of $20,000.
There are better deals out there (and I can help with that too), but the moral of the story is: You need to do your homework before you hire a matchmaker.
Know what you want.
To narrow down the list, have specific goals in mind. Do you want a local service or are you willing to travel to meet your soulmate? Are you interested in a specific demographic, like a fellow doctor or lawyer, or a certain religion?
Some services are extremely specialized, like Chai Expectations for the Jewish community. Mature Singles Only is for people over 40, whereas It's Just Lunch has a much more diverse dating pool.
Stick to your budget.
At the end of the day, matchmakers are running a business. Many matchmakers, especially those at the larger agencies like It's Just Lunch, work on commission and have strict sales quotas. It's in their best interest to charge you more.
Decide what you're willing to invest, and stick to it. Many of the negative online reviews talk about the constant pressure to hand over more money. If the service is hesitant to talk about pricing up front, prepare yourself for some high pressure sales tactics coming your way.
Now that you've set your goals and budget, and narrowed down your list of potential services, it's time to start interviewing different matchmakers.
A few key questions to ask:
Do I get to see photos of my potential dates before I meet them in person?
What happens if you can't find enough matches that meet my criteria?
How many times have you had to refund a client's money because you couldn't fulfill your guarantee? (If the answer is "never", consider that a major red flag.)
(For the full list of crucial questions to ask any matchmaker before hiring her, get my FREE Special Report here now.)
Some more points to ponder:
Matchmakers are famous for over-promising and under-delivering. If it seems too good to be true, it probably is. Beware of extreme optimism and pretty pictures. You may be up against someone who was hired for their sales skills instead of their matchmaking abilities (two very different things).
While it's definitely not a hard rule, smaller companies are often more effective than larger, franchised operations. Remember that part of your membership fee goes straight to paying their business expenses, including employee salaries and commissions, office space, advertising, etc.
Think about choosing a service that DOESN'T offer long-term memberships. If they're as good as they say they are, why are you signing up for two years of service at once?
Listen to that little voice in your head.
Ultimately, you'll want to pick a service you have a good feeling about. If the person you talked to seems sketchy or shady, follow your gut instinct. Just like in dating, there's plenty of fish in the sea.
There are literally thousands of options, and the range in service quality is enormous, so be selective and choose wisely!
"But how do I do that…" you ask? Here's how to get started:
Step 1) Claim your free "Matchmaker Secrets" report. I've designed it to get you asking ALL the right questions to potential matchmakers so you don't risk getting burned.
When you crack open my special report, you're doing to see that I'm truly on a mission to make sure you choose the right service and maximize your chances of finding love. Get your copy here.
Step 2) Once you've read the report, you'll be prepared for your 100% free phone consultation with me personally. I'm an ex-matchmaker with 10 years of experience in the industry, and I'm here to help! 🙂
There'll be no high pressure sales tactics, no hassles, no obligations… None of that stuff! Just a laid-back chat so we can make sure you're headed down the fast track to finally meeting your ideal partner. That's why you're here, so why wait? Sign up for your FREE consultation.