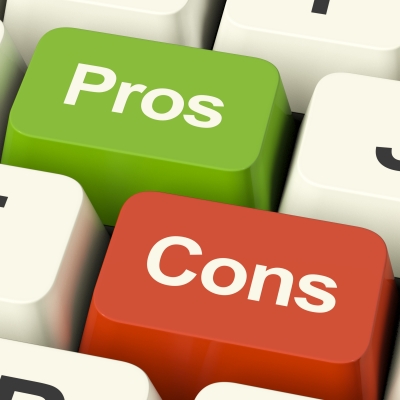 If you're on this site, chances are you already know how difficult dating can be. You're a hard-working professional or business owner, you're over the club scene and tired of the bars.
When you're too busy to meet new people, online dating makes sense – but it's time consuming. Statistics show the average online dater spends about 12 hours a week (1) sifting through profiles and sending messages. When your work week is north of 60 hours, that's a huge chunk of time you don't have.
Outsourcing your dating life makes sense, and it's a great investment – if you choose the right service.
But before diving in head first, you'll first want to consider the pros and cons of hiring your own personal matchmaker:
PROS:
It's efficient. You'll have access to a wide range of people you never would have met otherwise, and your matchmaker will sift through them for you.
You'll generally have better dates. Theoretically, none of your blind dates should be horrible, since the candidates are pre-screened by an expert with your preferences in mind. Many reputable matchmaking companies do background checks on all their clients, which is never a bad thing.
It's a confidence booster. Most matchmaking services also help you improve your online image, and provide dating coaches and other such services. You might have to pay extra, but it's skills and knowledge you can take with you.
You'll have a wingwoman. When you hire a matchmaker, you'll have access to a live person you can call and talk to. You can get dating advice, personalized service, and the confidence that comes with knowing someone is in this quest with you.
CONS:
It's expensive. For instance, e-Harmony just launched their eh+ service, which adds a matchmaking component to their dating site. For a mere $5,000 (2), you can have a real person do the hard work for you. And that's on the inexpensive side – some of the "elite" companies charge upwards of $20,000 a year.
Results might not be guaranteed. You can spend a lot of money and still not meet someone special… or anyone at all! Matchmaking services stress quality over quantity, so if your goal is to never spend another Friday night alone, online dating might be a better, quicker bet.
There's no quality control. Unfortunately, there's no real regulation in the industry. As with most businesses, some legitimately want to help you, and others just want to help themselves to what's in your wallet. Make sure you know the right questions to ask before hiring a matchmaker. And before handing over your credit card, you'll definitely want to check with the Better Business Bureau and online review sites for complaints.
Once you've decided to take the plunge, the real fun begins – choosing a matchmaking service. There are thousands of companies to pick from, but you'll want to be selective and choose wisely!
"But how do I do that…" you ask? Here's how to get started:
Step 1) Download your free special report here that I've designed to get you asking the right questions before hiring a matchmaker so you don't get burned!
I want to be sure you'll choose the best service for your needs and maximize your chances of finding love, so get it now.
Step 2) Now that you've read that report, you're ready to sign up for your FREE, no-obligation personal phone consultation with yours truly, Rebecca Teare. I'm an ex-matchmaker with 10 years of experience, and I'm here at your service. Let's talk! 🙂
Sources:
https://coffeemeetsbagel.com/blog/index.php/original/fruitless-search-on-online-dating-2/
http://www.fastcompany.com/3020991/reverse-engineered/how-eharmony-plans-to-use-5000-personal-love-doctors-to-find-your-interne